Salted Fudge Nut Brownies
Equipment
9 x 13 inch baking pan
---
Every time I make these, someone asks me for the recipe.  So here it is!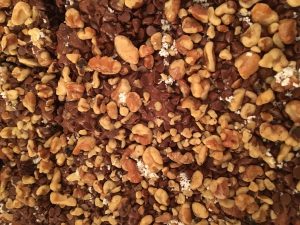 ---
Ingredients
---
Instructions
Preheat oven to 350 degrees.

Mix oil and sugar together in a medium sized bowl, using a whisk.

Add eggs, one at a time, whisking into sugar and oil mixture. Add vanilla.

In a separate bowl, combine all dry ingredients.

Add dry mixture to wet ingredients, stirring into a thick, chocolatey paste.

Pour into greased 9x13 inch baking pan.

Sprinkle with a few handfuls of mini chocolate chips, chopped walnuts or pecans (or both), and a few pinches of fleur de sel. If you don't have fleur de sel, don't sweat it. Just use coarse kosher salt. Trust me, you want the salt to cut the richness of the sugar and fat.

Bake for approximately 35 minutes. Top of brownies should appear dry and cracked, but a knife/toothpick inserted in center should NOT come out clean.
Nutrition: You're going to need to go for a run. Make it a long one.