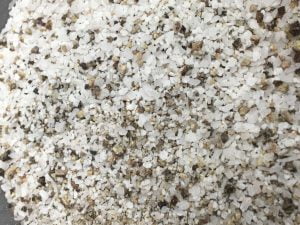 Is anyone looking at this and saying: "it's just salt and pepper!?"  You'd be 100% correct.  It is just salt and pepper.  But I swear to you, here on my blog for "everyone" to see: this counts as a huge time-saving and meal-delicious-ing tip.
Reason #1 To Make Hog Island Spice Rub:
I don't think I can convince you with words, the way that your next burger can convince you with taste, so just humor me, and do this:  Throw a half cup of kosher salt into a tupperware and grind your peppermill (yes, it absolutely HAS to be freshly ground pepper and not the powder they sell already-ground) into it until your arm hurts, and mix.
Prep your burgers by grabbing a handful (about a 1/4 pound) of 85% or 86% lean ground beef, and form a patty.  (Try not to overwork the meat.  Just gently shape it into a patty.  Bobby Flay taught me to press my thumb into the center so that it will stay patty-shaped and not rise back into a ball once it's on the grill.  It works.)  Then sprinkle a few pinches of Hog Island Spice Rub onto your patties and grill.  Most delicious burger EVER, right?  I know.
This is actually how the old "Hog Island Spice Rub" mixture earned its name…  Every summer, we pack up the cooler and sail to Hog Island, a tiny, privately owned, beautiful island off the coast of Bristol, RI, to visit our dear friends.  It's one of the happiest times of the year for us.
This is what my face looks like on Hog.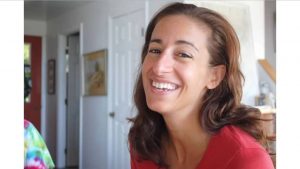 See how happy?  Because: family, friends, food, beer, sailing, sun, outdoor showers, sleeping on a boat, corn hole, digging quahogs with your toes and eating them on pizza for lunch.  Life on Hog is simple, delicious, and perfect.
Our boat is small (we can only carry so much) and our time on the island is precious, so we employ as many space-saving and work-reducing strategies as possible.  I like to prep as much as I can before we pack and leave, so there is little work to do once we arrive.  I form the patties at home, separate the layers with wax paper, and pack them into the cooler on ice.  We all know that putting salt on anything will draw out its water content, and you don't want to put salt/pepper on your hamburger meat and then set out for a five hour sail.  So, we have to season after we get there, just before the burgers go on the grill.  Instead of packing the peppermill and the salt, I just put together a little container of salt & ground pepper and throw it into the cooler.  The first time we made burgers on Hog, our friends bit into their burgers and immediately exclaimed, "What was in that seasoning you put on these burgers– they are FANTASTIC–best burgers EVER!"  Laughing, I explained that it was a rare and special seasoning blend that I created just for them, and we now call it, "Hog Island Spice Rub."
But you know what?  It's a great reminder that you don't need anything fancy or expensive to create the cleanest, most flavorful, most delicious and memorable flavor in your food!  Sure, we still use other spices to add interest and variety (brown sugar, cayenne, paprika, mustard, cinnamon, garlic, herbs, etc., etc., etc.), but if you want to taste your food (meat and veggies) at the peak of its natural flavor profile, you can not beat the simplicity and ease of good old kosher salt and freshly ground black pepper.
Reason #2 To Make Hog Island Spice Rub:
Once Hog Island Spice Rub was created, it became a staple on my kitchen counter.  I realized that my prep work, designed to reduce work on boat-based Hog Island, would also work in my land-based kitchen. I had taken what used to be a two step process (throw on a sprinkle of salt, and then reach for the peppermill and grind, grind, grind) into a one-stepper!  Pinch and toss!  It actually saves so much time!  Every single time I prep food to go on the grill (which is almost every single day), it's drizzle of oil, sprinkle of Hog, go!  Every time I pack a lunch, serve a salad, make a dressing or marinade, make sauce or ANYTHING that calls for salt and pepper, I just pinch, toss, go!, instead of pinch and toss and reach and grind and grind and grind.  Also, it's portable, so you can pop it into your cooler, your lunch bag, or your picnic basket.  It's not earth-shattering, but whenever you can reduce two or three steps into one, you are winning, in my book.
Give it a try and let me know what you think!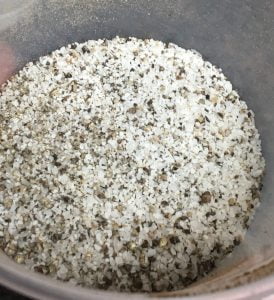 ---