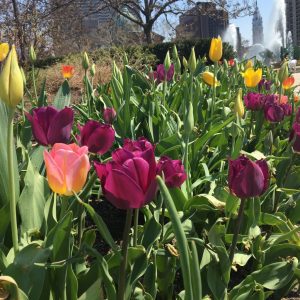 Thank heavens for Spring, and I mean that this year more than ever.  This winter has felt interminable, and Spring has been extra slow to arrive.  Even as I type this, I'm hesitant to say that it is actually here, because we've only had one or two days of temps above 40 degrees, and it's already late April.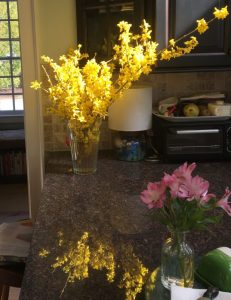 Between navigating a challenging new job, wicked winter weather, storms and power outages and holidays, expanding our multigenerational household, kids finishing high school and transferring between colleges, and batting back a few family crises here and there along the way, it's been a real doozy.  On reflection, maybe the seasons have been trying to give us a chance to catch up before the next big transitions (graduations, the heat of summer, changes in work schedules, all new demands and needs to meet).  So, alright, maybe it's a blessing that we haven't also had to muscle through the change of seasons yet…  But now, I think, we are ready.  This Spring (a transitional season in and of itself) is going to be about honoring our collective growth and new directions, putting new flavor twists on old favorites, and, of course, activating our strong planning roots.
To celebrate the right-on-time arrival of the Season of Transition, I offer you a perfect transitional salad…  If you've been heavy on pot roast and pasta all winter, like we have, then your body will be grateful to transition to loads of greens, high fiber, brightly flavored salads, legumes, and lean, grilled protein.  This Butter Bean Grilled Salad is just the thing to kick off your Spring and whet your appetite for Summer.  Enjoy!
---