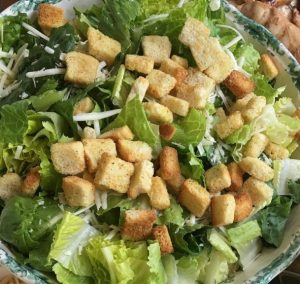 So far this summer (in the past three weeks), we have celebrated a 50th birthday (twice) and two high school graduations, and we are rolling right into Fathers' Day, a 17th birthday and the Fourth of July.  We are here to party, people.  If you are celebrating like we are, you're going to need some easy, hearty, fan favorite summer staples to get you through, in style.
My sister asked me to bring "my famous Caesar dressing" to our Fathers' Day pool party tomorrow, "so that [she] can bathe in it."  It's that good.  But honestly, I don't feel like it's "mine."  While there are countless recipes/versions for Caesar dressing out there, the ingredients are pretty much always the same, give or take the egg and/or mayo.  And to be blunt, measurements, when I'm making something like a huge batch of salad dressing, are kind of a myth.  While I will make some reasonable recommendations here, with respect to measurements, don't you dare take me at my word.  You like it thicker?  Add more cheese.  You like it thinner?  More oil.  More lemony?  More peppery?  Creamier?  More garlicky?  Less fishy?  You get the idea:  adjust, adjust, adjust.  I like my Caesar without egg or mayo.  I just like it like that.  I get to rest easy when it sits out by the pool for a few hours, and I get to feel as though it's a bit lighter than its classic cousin (with egg).  You do you.
Caesar Dressing – Hold the Egg

1 cup extra virgin olive oil
1 cup grated parmesan cheese
Juice from 2-3 lemons (I like it LEMONY)
1-2 cloves garlic
3 tablespoons dijon mustard
3 anchovy filets
salt and pepper

Blend the cheese, lemon juice, garlic, dijon and chovies in a food processor until well blended.  Drizzle the olive oil in while blending further, and allow to emulsify and thicken.  Salt and pepper to taste.  Adjust, adjust, adjust.
I like to leave the dressing on the side, next to a giant bowl of washed romaine, topped with shredded parm and croutons, and let people dress their own salads.  It's not a traditional preparation, but it works for big crowds with varied tastes and requires no maintenance of you.  I will also serve with grilled, marinated chicken on the side.  Some people will spoon dressing onto plates just to dip their veggies or chicken into.  Some bathe (everything) in it.  No judgment here!  Enjoy!
---