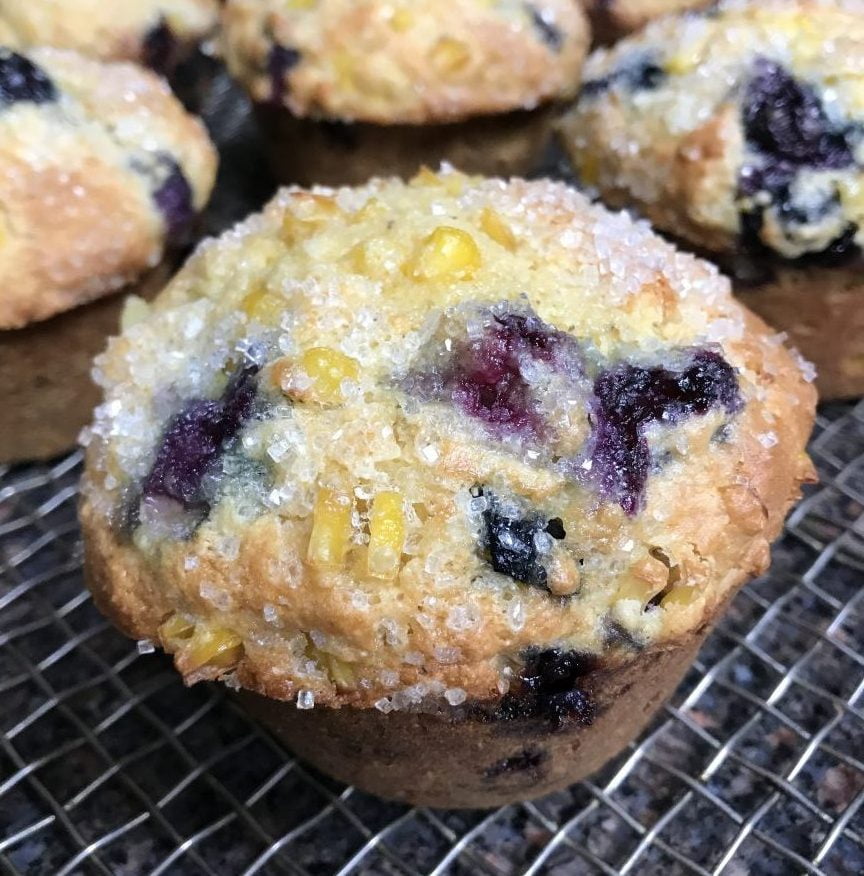 The trick that makes these muffins OUTSTANDING is the fresh sweet corn, left over from last night's dinner, that is cut off the cob and goes directly into this simple, classic corn muffin recipe.  You can find it at this link: old school "Jiffy" Corn Muffin Mix  or just here it is:
2/3 cup flour
1/2 cup cornmeal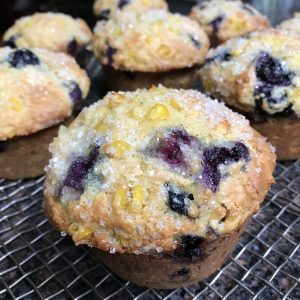 1/3 cup sugar
1 Tablespoon baking powder
1/2 teaspoon salt
Just mix these dry ingredients with 1 egg, 2 Tablespoons of vegetable oil, and 1/3 cup of milk and bake at 400 degrees for 15-20 minutes.
Please keep in mind that I quadrupled this recipe this morning in order to make about 15 giant sized muffins.  And then I promptly ate two of them.  This recipe, as is, makes about six very small muffins, which, in our house, is about two servings.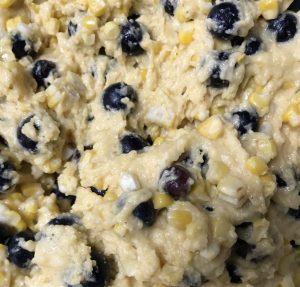 The thing that knocks these off the charts is the six ears of sweet corn, cut off the cob, and two pints of blueberries that I added.  This brilliantly simple, nutritious, hearty, and economical technique is one I picked up from our friends on Hog Island… Hog is a carry-in, carry-out island: nothing goes to waste and efficiency is the name of the game.  Electricity is propane-generated and showers are outdoors.  Basically, it's paradise.  And it took an overnight on Hog and our friends to teach me to cut leftover corn off the cob and into the next morning's blueberry pancakes!  You guys!  Once you try this, you will experience the pure brilliance.  Corn is sweet!  It's not just for dinner!  And the texture is fun!  It pops and crunches and lends a sturdy hand to the quite-mushy-when-cooked blueberries.  So, having made pancakes yesterday, I was in the mood for muffins this morning… and when I saw that bag of corn in the fridge, this recipe came to life.  Make sure to sprinkle plenty of coarse sanding sugar (or any kind of sugar will do) atop these muffins before you pop them into the oven for an extra crunchy sweet top, and seriously, go ahead and try to eat just one.