How you feel about kale at this moment is irrelevant.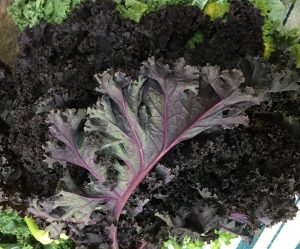 Once you eat your first bite of kale pesto with hazelnuts, that is when your relationship with kale (and maybe your relationship with yourself) is defined.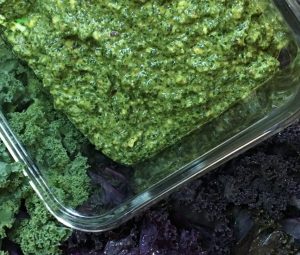 Unlike its smooth, soft, silky cousin, basil pesto, kale pesto is chewy.  Kale pesto isn't just a spread or a sauce; it's a meal-maker.  The rugged mouthfeel and knockout flavor combo of the kale and hazelnut will blow you away.  Kale is in peak season right now – it's inexpensive and it's SO GOOD FOR YOU.  And since the flavor and texture of this pesto is going to make your little heart sing, there is absolutely no reason why you shouldn't make it tonight/tomorrow/wicked soon.  Here's how:
In a large food processor, blend:

Leaves from two bunches of kale, rinsed, dried and torn from stems;

About 3/4 cup grated parmesan cheese;

About 1/2 cup hazelnuts;

2 – 3 cloves garlic;

Juice from 1/2 lemon (about 1 Tablespoon);

Big pinch salt and pepper;

Drizzle about 3/4 cup of extra virgin olive oil into the mixture while pulsing.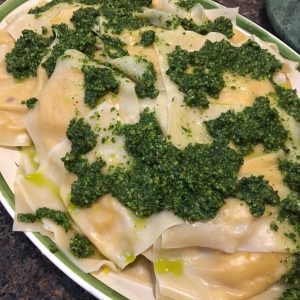 Kale Pesto is great on: toasted English muffins with a fried egg in the morning, spread atop any sandwich or bagel, dollopped into any broth-based soup (e.g., chicken soup, vegetable soup), and of course, on any pasta, my favorite being the roasted butternut squash ravioli above.  My advice?  Make a couple of batches:  you're going to want to eat this with a spoon.
---