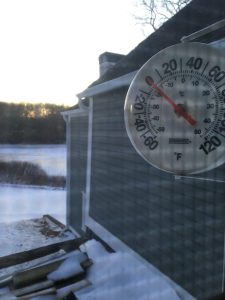 It's wicked cold out there.
I can't say I've seen icebergs floating in the ocean or our saltwater cove frozen over, before now.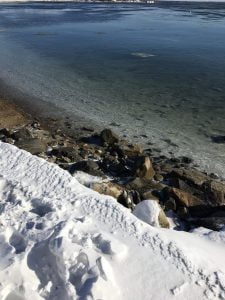 This weather puts "Soup Season" into a whole new light. 
It's any-excuse-to-turn-on-the-oven season. Turning on the oven and/or the stove isn't just charming and delightful this month; it's needed to take the chill out of the house, and what comes off/out of it warms our bellies and our hearts, so we look forward to it every day. It's comfort food season:  we're all coming down from the excitement, workload and (sometimes manic) joy of the holidays, and we're feeling a little slower and maybe a little lower than usual.  We need to inhale the vapors of the soups and stews our grandmothers made to encourage our spirits through hard times.  It's a time for planning and goal-making, inspiration and fresh starts:  we need something spicy and tangy to wake up our senses and our imaginations. It's pick-up-a-shovel-and-help-your-neighbor season, and if you're lucky, there will be a bowl of something steaming and savory waiting to thaw you, inside. 
As all of my friends and neighbors here in New England know, the sun starts to fade around 3:30 p.m., and by 4:30 p.m., whatever few degrees we enjoyed during the day have receded into the night, and it's back to zero or below.  On weeknights, this means sneezing through a hurried, chilly day at the office and racing home as early as possible to beat the deep freeze and get the crew fed and cozied up before it's too cold and dark to think.  On the weekends, we like to snuggle down and go to bed as early as possible, so dinner gets prepped and eaten a little earlier than usual.  
Extreme cold weather like this makes me crave big flavors: spicy! tangy! zesty! sour! zingy!  and it also makes me lag in energy and inspiration in the food shopping/prep/planning department, so I've mustered all of my very best efforts and ideas for how to manage meals for the several bitingly cold weeks ahead and set them down here, before I take my own advice and head to the grocery store.
We may feel like molasses moving through these next few weeks, but the demand on our collective energy level is higher than ever: we are still rising before the sun, exercising and working hard, trying to put away, clean up and recover from the holidays (and many of us, recovering from illness), catch up on many tasks left undone over vacation, and we are all still managing the many circus acts and challenges of daily life.  And it takes extra energy just to walk to the mailbox in this weather, so we need to be well fueled now, more than ever!
January Meal Plan
Breakfast:
Granola with yogurt and berries (I made a three month supply of granola yesterday– another great reason to turn the oven on and the cinnamon aroma, mmmm!)
English muffins with peanut butter and bananas
Steel cut oatmeal with minced apple, nuts, craisins and cinnamon
Scrambled garlic eggs with shredded cheddar cheese and bacon– for apres shoveling!
(Adding to this list: the most delicious Scottish scones that my good friend, Lynsey, just made for us… must add that recipe to my repertoire right away!)
Snacks:
carrot sticks with humus
grapefruit sections
popcorn
cheese toast
Lunch & Dinners:
Eggplant Parmesan with roasted broccoli — recipe coming soon!
Short Ribs with mashed potatoes
Pasta with Roasted Eggplant and Garlic Marinara
Lindquist Soup (especially great for anyone recovering from a cold/flu/sinus infection!)
Italian Wedding (Chicken) Soup
Sesame Noodles with Chinese 5 Spice Chicken — recipe coming soon!
Scrubber Salad (kale, beets, sweet potato, jicama)
[In addition to the things on this list, we'll be having a big family dinner mid-month to celebrate birthdays and surviving winter, so we'll add a trip to Federal Hill for Italian meats, cheeses, olives, breads and pastas… I'll make an onion soup, either french onion or vidalia onion with fresh parsley pesto, a big herb crusted standing rib roast, mashed potatoes, ravioli and salad… and a traditional birthday cake, recipe to follow!)
Treats:
Birthday Cake — recipe coming soon!
Shopping List:
apples, carrots, bananas, lemons, grapefruit, blueberries
kale, sweet potatoes, jicama, golden beets, onions
eggplant, broccoli, escarole, mushrooms, scallions, garlic
cheeses, humus
bread, milk, yogurt, coffee
ground beef, whole roaster chicken, short ribs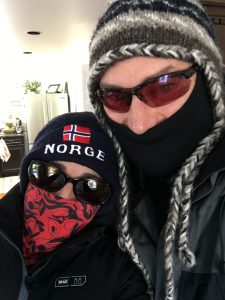 Stay warm and eat well, my friends!
---