Vidalia Onion Soup with Blistered Cheddar Cheese
Equipment
oven-safe soup tureens or crocks
---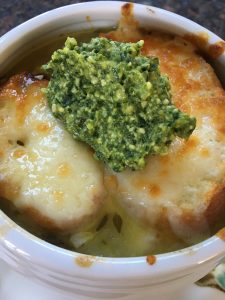 This recipe comes straight outta Bobby Flay's Bar American cookbook, which my mom had signed for me by the master himself, at Dave's Market in my hometown. From the moment that he told her that his mother's name is Dotty, she's been a little smitten.  I've been smitten since I had this dish at his NYC restaurant: it's awesome. This recipe tastes exactly like the real thing, it's deceptively simple to make, but will wow your guests with the fancy appearance and special flavor twists on the old stand-by french onion.  This soup is aces for the holidays.  I've adapted Bobby's proportions to suit my large crowd's appetite… you should either consult his recipe or halve this one if you aren't feeding more than ten people, with leftovers desired.  I should say, though, that this soup keeps really well and is an awesome, filling hot lunch or dinner during that week of vacation between Christmas and New Year's.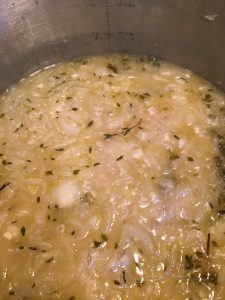 The only downside of this dish is that it's pretty prep-heavy.  But every single bit of work can be done ahead of time!  Grate your cheese and put it in a big tupperware in the fridge.  Slice your bread and put in a gallon sized ziplock bag in the fridge.  Make the pesto up to a week ahead of time and store it in an airtight container in the fridge. (This pesto is excellent on everything you already like pesto on: egg sandwiches, pizza, pasta, you name it.  Make extra-extra pesto.  You will not regret it.)  You can even make your soup a few nights before, if you want, and reheat on the big day.  So, if you're going to go to the trouble, you might as well make enough to enjoy all week.  This soup is also noteworthy for being a huge hit with the under ten, tween and teenage crowds.  It's shocking, that they would love an onion based soup so much, but the kids actually do eat it up, quite literally.  Must be the sweetness of the vidalias and the "grilled cheese" on top.
---
Ingredients
---
Instructions
Melt butter and oil together on medium heat in the bottom of a large soup pot.

Add sliced onions to butter and oil, stirring to coat, and stirring as they melt down and become translucent.

Add mined garlic, stirring, and cook for about two more minutes.

Whisk in flour, stirring constantly. The mixture will quickly thicken. Have your chicken stock handy... it's next.

Stir in your chicken stock. You may want to use a whisk for this, so that you don't end up with flour clumps in your soup. Onions will be stringy and may clog your whisk. This is normal.

Add salt and pepper to taste. Don't forget: you're going to top with cheddar cheese and a flavorful dollop of pesto, so go easy on the spices here.

After soup has come to a boil and is now on a low simmer, you can fish out your thyme. The leaves will have come off the stems and found their place in your soup. Pick out the bare stems. Ladle soup into a crock, about half-way full.

Top with a floating baguette slice and a small handful of grated cheddar. Place soup crock on a pan under the broiler in your oven and watch it closely. Remove when cheese is bubbling.

Top bubbling cheese with a spoonful of pesto, and enjoy!
Nutrition: Good for the body and soul.