I just found the email that contains this recipe in a heap of folded up, tucked away notes and recipes that are waiting to make it into this blog. It's dated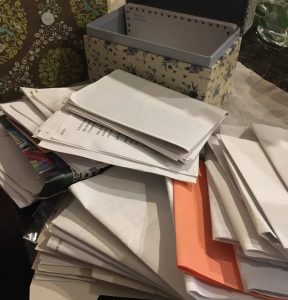 June 28, 2007.  I'm impressed that it survived four or five moves and the test of time!  Back in the day, I converted the email onto this pink notecard, now stained with salsa juice of seasons past, and stowed it away for safe keeping… while memorizing the ingredients with the making of  each batch.  This recipe is named for its author: the famously fun and amazing Kathy Kelly.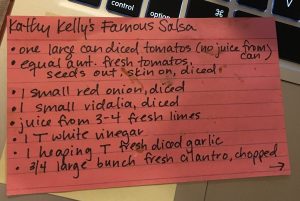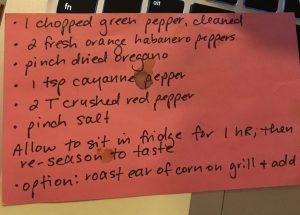 The first time I experienced this salsa was well before 2007.  It was the last Friday in July, 2001?  2002?  I had just run my umpteenth Blessing of the Fleet 10 mile road race down in Narragansett, and my boyfriend and I opted for a hot shower, chips/salsa and beers with Kathy and her husband, Jay, instead of the madness of the post-race beer tent.  On that night, my life was changed forever.  The salsa at Kathy's house was HOMEMADE.  It was FRESH.  And it was an awakening of flavor.  Kathy, being the awesome lady that she is, shared her recipe with me.  I've been making Kathy Kelly's Famous Salsa since 2007 and have adapted it to my particular taste over time – I've  added a few more green peppers, cut the onion in half, added limes, replaced the habanero peppers with jalapeños and added tomatoes.  But the essence is all there, and it is all Kathy's.  Thank you, from the bottom of my heart, Kathy Kelly, for sharing this outrageously delicious recipe – it has come to define the taste of summer for me and for my family, and we wouldn't be the same without it.
---