Kathy Kelly's Famous Fresh Salsa
Serves
approx. 3 quarts
Equipment
food processor
colander
---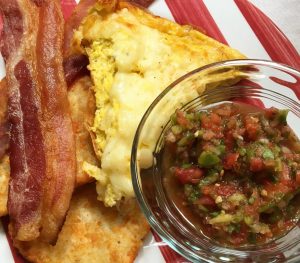 You're going to love it with eggs!
In the batch pictured here, I didn't have corn on hand, so I left it out, but you're not going to want to if you can help it.  The corn adds sweetness that balances the acid in the lime juice, tomatoes and vinegar.  But by all means, better to have salsa without corn than life without salsa!
---
Ingredients
---
Instructions
Grill or boil your corn and slice off cob. Set aside into large mixing bowl.

Drain the canned, diced tomatoes into the colander. Once excess liquid is drained, add to large mixing bowl.

Working in small batches, put fresh tomatoes, green peppers and white onion through food processor, draining off excess liquid into the colander and adding to bowl.

Put jalapenos through food processor and add to bowl. If you want maximum heat, only trim the stems and leave the seeds in peppers. If you want more control over the heat level, remove the seeds and cartilage of the jalapenos before chopping them in the food processor. Be careful not to touch eyes, mouth, face, etc., after handling jalapenos! The first time I made this salsa, I minced each ingredient by hand and mixed the whole bowl of ingredients with my hands. My hands burned so badly, later that night, I had to stick them in a gallon of ice cream to ease the pain. Don't let this happen to you!

Mince washed cilantro and add to bowl.

Strain off excess liquid that has accumulated in the bowl since the ingredients have been resting. This step is important to prevent watery salsa!

Add vinegar, lime juice, cayenne and salt and pepper and stir.

Your fresh salsa is ready to eat, but it will taste different tomorrow once the flavors have had a chance to marry. Re-taste the next day and season again if needed.
Nutrition: Get your nutritional greatness here!! Zero fat, low in calories, high in vitamins and minerals, and the heat will rev up your metabolism!