This is how we do it:  every week, my parents deliver our half of the farm share that we share… For the past few weeks, it has included (fresh, local, organic) kale, rainbow chard, baby bok choi, spring onions, arugula, basil, spinach or other greens, cabbage, plenty of fun zucchini and other squash, carrots, garlic scapes, and so much more.   It's marvelous.  It's like the produce aisle harvests itself and walks right into my kitchen.  So that's my first "grocery fill up" of the week, and it's always on Friday evening (perfect).  Then, I sit here on Saturday morning and figure out how to bring these fresh ingredients together into great meals that we can eat all week.
I have been making 2 – 4 grilled pizzas every week.  Here's how: I use store bought pizza dough, topped with 4 – 6 cloves of minced garlic, a drizzle of olive oil, a heap of chopped rainbow chard, piled high with shredded mozzarella, sprinkled liberally with salt, pepper and garlic powder, and grill (in a cast iron pizza grill pan– I have two, so can make two at once) at about 500 degrees until the crust is golden, and the cheese is bubbly/crispy.  MMMM we love the swiss chard pizza.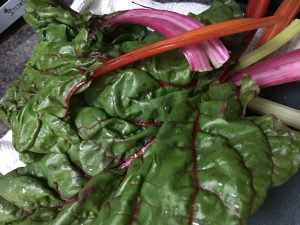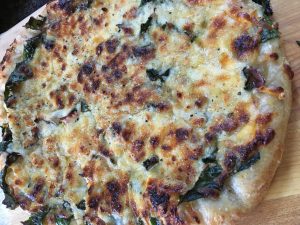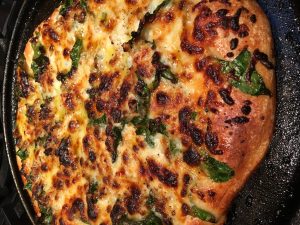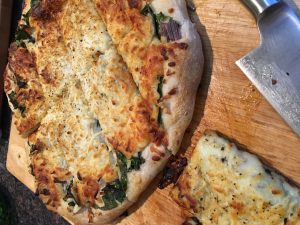 We gobble it down for Friday night dinner (the trick is to have pizza dough in your fridge already– so buy extra when you are at the grocery– or make your own).  And then we eat it for a quick, easy lunch all week.  I'm going to be sad when rainbow chard stops showing up in my farm share.  If it's not too hot, I will also turn on the oven and make kale chips.  It's a good way to live: hot swiss chard pizza and garlicky kale chips on a Friday night.  MMM!!!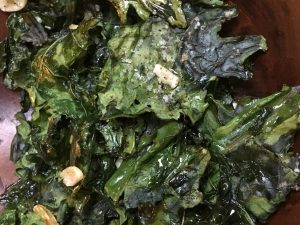 I will also grill two proteins… maybe a big  pack of chicken (marinated, of course) and pork chops.  That was last week.  Just throw them in marinades the minute you get home from the grocery, and then grill them whenever you want (a day or two later).  You can use one of my marinades, make your own, look up a different recipe, or use something from a bottle.  Or use a spice rub!  I keep a big container of the spice rub for my sweet potato fries on hand– it's great on any protein, too, especially pork!  Either way, your family will LOVE the flavor and having something hot off the grill, mid week, and you will love the fact that there is virtually NO prep time needed, day-of.  Toss any veggie (including corn) in avocado or olive oil, sprinkle with salt and pepper, and grill alongside your protein.  Dinner is done!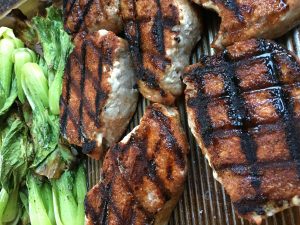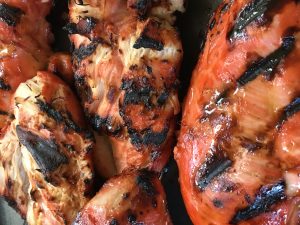 If you get a rainy/cool day, and you have time to bake, try these banana-chocolate chip (baked) donuts.  They are sweetened with those mushy bananas on your counter and greek yogurt and double as breakfast-on-the-go.  Or whip up a batch of savory corn muffins.  I put jalapeños and grated cheddar in these… my recipe calls for bacon and green onions.  Add whatever you like.  These also serves as a meal on the go– a satisfying lunch, breakfast or snack.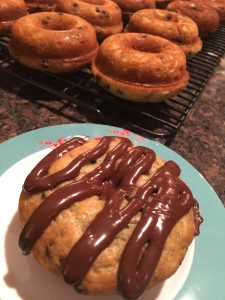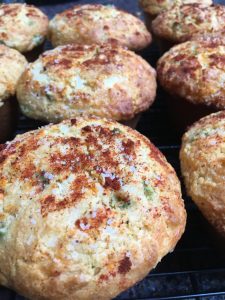 And, of course, where would we be without PASTA and RED SAUCE.  I made 12 quarts of meat sauce last week, and it's already gone.  Axel literally drinks it from a mug or spoons it out of a bowl for breakfast, lunch and dinner.  (This fascinates me, but I can't say I blame him!)  A few weeks ago, I had bought some littlenecks, thinking I would grill them for the 4th but didn't get around to it, so I made linguine with clams instead… and was reminded of the HEAVEN ON EARTH that is linguine with clams. It's literally just melting butter (about a stick) in a large pan with about 4 – 5 cloves of minced garlic and about 4 Tbs olive oil, add the juice of  2 lemons and about a cup of white wine… simmer.  Steam your clams separately.  Boil your pasta until al dente, then add strained pasta to the sauce you've created… add steamed clams, let the pasta soak up the juice, add chopped parsley, salt and pepper to taste, and be transported straight to heaven.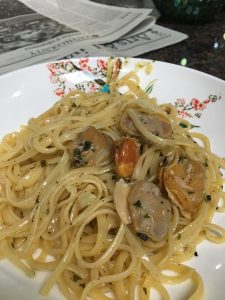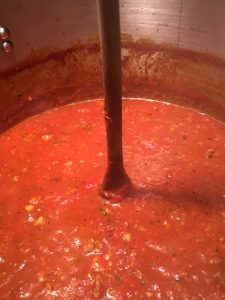 Last, but not least, was our special creation of the week: Corn Chowder.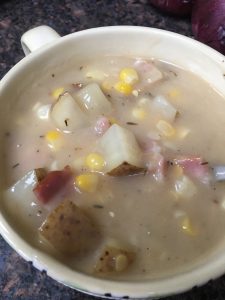 The fresh corn in this chowder makes it a knock out.
The bacon doesn't hurt, either.  You could call it "Bacon Soup," if that helps you sell it at home.  I made 9.5 quarts on Tuesday night, and it was gone by Friday.  Your kids will love this.  You will love this.  It's crazy inexpensive and easy to make.  You need to try this one.  It was actually worth sweating over the stove in 90 degrees with no AC.  That's how delish.  Enjoy, and have a delicious week!
---