You're going to love this simple, nutrient-packed, addictive snack.  Roasting breaks down the fibrous leaves and makes them delicate and crisp, with a deep, nutty, almost smoky flavor.  We eat them as a snack or side dish (instead of salad), and my family also likes to pop them into whatever soup or sauce we are having!  They dissolve in your mouth and can be eaten by the handful, absolutely guilt-free.  My teenaged step-son will eat a whole pan before they can even cool down, and I can't say I blame him.  Move over, potato chips, nachos and french fries: kale chips are here to stay.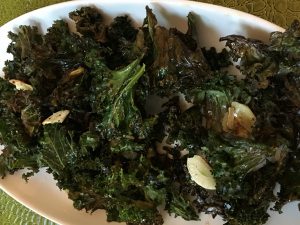 ---
Ingredients
---
Instructions
Pre-heat oven to 425 degrees. Line up two baking sheets, and spray with cooking oil.

Wash and shake kale dry. Separate kale from stalks and tear into pieces about the size of the palm of your hand (no need to make them too small--they will shrink while roasting).

Thinly slice garlic and distribute among the kale. Sprinkle both pans with olive oil, then salt and pepper.

Pop into the oven and roast for about 8-10 minutes, then remove pans and turn your kale over with a spatula and back in for another 8-10 minutes, until leaves are crispy but not black.

When they are done, plate them onto a platter and sprinkle with lemon juice and a little more salt. Enjoy!
Nutrition: Eat a lot of these every day. Your body will thank you.