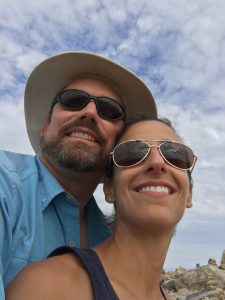 This is what my face looks like at the end of summer.
August is a lot of things.  Easy is not one of them.
For my family, this has been a summer of setting, facing and meeting goals.  My personal goal was to make sure every one of us got what each of us needed to be our best selves this summer, and a lot of that had to do with keeping a well-stocked fridge for hundreds of breakfasts, lunches, snacks and dinners on-the-go and after-hours.  For my husband and me, that meant facilitating daily communication and logistics strategies for two busy teenagers sharing a car, coaching and navigating challenges related to time management, fitness management, sleep management, priority-setting and social development, and figuring out where a healthy marriage, and all that goes into it, fits in…
We've met our goals, we feel accomplished, and we are utterly exhausted.  For me, the end of summer brings relief: we'll go from being a household of three people doing unpredictable shift-based work (me being the only one on a regular daily schedule), back to only one of us on the wild work hours and the rest of us with boring, predictable schedules (thank heavens).  Management of the household will be less chaotic, will require less daily problem-solving and thinking on our feet, and will become more routine…and there ain't nothing I like more than a good, solid, stable old routine.
The end of summer also brings the start of Fall, which is every cook's season of bliss.  Bring on the chili! The red sauce!  The bolognese!  The handmade pasta!  The SOUP!  The bread!  The cookies!  The cakes!  Fall is the Harvest, the Cooking Season, and the reason we all bring our knives to be sharpened at the Farmers' Market in the summer.  And I have a few new cookbooks and a few hundred new recipes to try!   I am excited.  So, the End of Summer really requires its own celebration, and that's exactly what we did, with friends and family, last night.
I hired a wonderful company called Brown Paper Bounty to put together a decadent "food pile," pictured here, for our friends and neighbors to enjoy while we toasted the End of Summer 2017.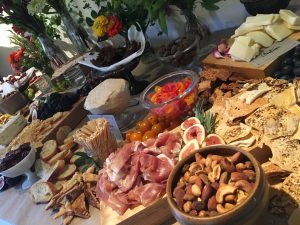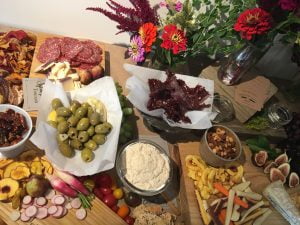 It was delicious in every way.  And friends, guess what I discovered: it's ok to know your limits and your capacity and sometimes call in reinforcements instead of cancel when Life doesn't allow you to do every single thing you want to do…  like make your own crackers, jerky, seasoned nuts, dried fruits, dips, spreads and jams (which these guys do)!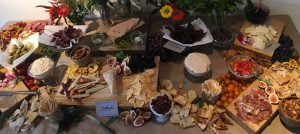 I recommend these Life Savers when you need a hand with gorgeous, decadent, house-made piles of food (they also bring cheeses, cured meats and fresh fruits, veggies and flowers and do all of the set up and take down for you) for your treasured friends and family to enjoy, at the End of Summer or any time!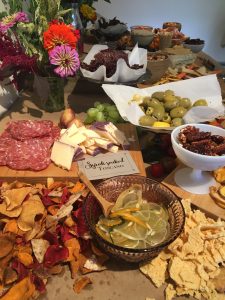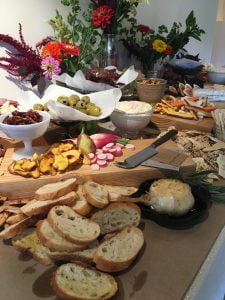 Here's to a delicious Fall, everybody!  Start your ovens and let the cooking begin!
---