Equipment
sheet pans
large mixing bowl
parchment paper
---
It doesn't get much easier than this, folks.  Just add these things to your grocery list and when you have a free afternoon (you know, like while you are vacuuming or cleaning bathrooms or stretching or planking or folding laundry), you can bake off the best granola you have ever tasted.  You'll be glad you did.  Visit my friends Crystal and Jesse at musclesandmiles for more delicious, high-energy meal ideas and awesome, ass-kicking workouts!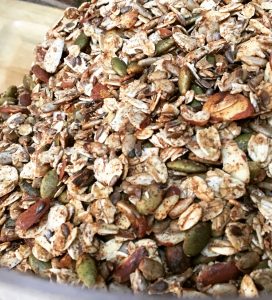 ---
Ingredients
---
Instructions
Pre-heat oven to 350 degrees. Line two baking sheets with parchment paper.

Mix all of the dry ingredients together and add maple syrup, one quarter cup at a time, until mixture is slightly sticky (the oats and seeds will stick to each other) but not wet or drippy.

Spread mixture onto pans in an even layer, about one half inch thick. You may need to bake in a few batches, depending on the size of your pans. The thicker your layers, the longer it will take to dry out, toast up and get crunchy.
Nutrition: Tons of fiber, protein and "good for you" here. Eat it with a shovel.