Basic Red Sauce, Part I (Marinara)
Serves
12 spaghetti benders
Equipment
large, heavy-bottomed pot
---
Ok, friends.  Here it is: simple, yet soul-satisfying like nothing else.  I like to make a lot (11 or 12 quarts) of this sauce at one time, give some away and freeze a few quarts, you know, for sauce emergencies.  If you have less of an appetite for the Life Force than we do (remember, my stepson prefers to drink his red sauce right from the bowl/pitcher/thermos, and no time of day or night is a bad time for red sauce), just reduce the quantities in proportion.  The flavor will be the same.  There will be many more variations of this recipe to follow, so stay tuned, and keep your questions and comments coming!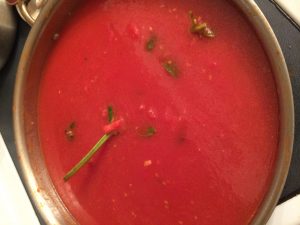 ---
Ingredients
---
Instructions
Cover the bottom of your pot with extra virgin olive oil (the whole 1/2 cup if that's how big your pot is), and let it warm up on medium heat. Dice your onions and throw them into the heated oil. Melt the onions until they are translucent. If the oil is sizzling or the onions are turning brown, your heat is too high.

Mince garlic and add to the onions. Then add herbs and stir until the aroma opens up and everyone within nose-shot comes into the kitchen saying, "whooooa, it smells amazing in here." This should take about two minutes. If you have fresh herbs, add them instead, but hold onto your basil until the sauce has come to a boil, then add it, stems and all. There is a lot of flavor in the stems, and they can be easily fished out once the sauce has cooled.

Add your tomatoes. If you don't have canned tomatoes, it's perfectly okay to use "whole, peeled tomatoes," "crushed tomatoes," or "stewed tomatoes" that come in a can, from the store. I stay away from brands that contain any additives, like sugar or basil or anything else, because it dramatically alters the pure tomato flavor I'm seeking. Don't get tricked into spending a ton of money on "San Marzano" brand canned tomatoes... they are not actually the real deal san marzanos that grow in Italy, but you wouldn't know it by the price. Cento, Hunts, Pastene and RedPack and others are all brands I use, depending on what I can find and what's on sale. We'll talk about canning your own in a later post.

Finally, stir in the tomato paste. Bring to a boil and then reduce heat to low and simmer for about an hour. You can tell it's done, when your wooden spoon stands up straight, in the middle of the pot, all by itself. Remove from heat and mangia! You can toss with fresh pasta or "dienge" a crusty heel of bread right into a deep bowl.

Allow to cool before refrigerating or freezing. I suppose it will keep in the fridge for a few weeks and for at least a month in the freezer, but it never lasts, even in the freezer, for more than a couple of weeks around here. I make about 12 quarts every two weeks or so. We live on this stuff.
Nutrition: Literally the cure for every known ailment, psychological, physical, political and metaphysical.