Equipment
patience (for those little meatballs)
oven safe baking dish
large heavy-bottomed sauce pot
---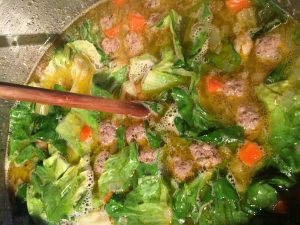 It's hard to imagine why/when you would prefer regular chicken soup to the complexity of this "special occasion" soup… and frankly, if you aren't already adding some type of bitter greens to every one of your soups now, you will after you try this.  Escarole is the key here (pronounced, "shka-dole"), but a dear chef-friend of mine recently suggested swiss chard in its place!  To me, that sounds like a fantastic idea (thank you, Lucie!) and one upon which I will play in another post.
---
Ingredients
---
Instructions
Preheat your oven to 350 degrees and put your sauce pot on the stove top on medium heat. Get out all of your ingredients.

Prep your mirepoix: peel and dice your carrots, onions and celery and parsley if you're using it. Wash your escarole thoroughly and let it drain into a sink or draining board and leave it out to dry.

Put a large pot of water on your stovetop to boil and salt the water generously. This will be to cook your acini de pepe. Have a fine strainer ready in your sink to catch the pasta once cooked.

Pat your chicken thighs dry with paper towel and season well with salt and pepper. You can use any/all part(s) of a chicken for this, e.g., use all skinless breasts if you prefer white meat and a less rich broth, or put a whole roaster chicken in your pot, as I often do. If you're using a whole chicken, be sure to turn it around a few times so that the skin gets nice and crispy. Mmmmm.

Place chicken, skin-side down, into the bottom of your hot pot. Let the skin sizzle and sear and the fat render. Turn on your exhaust fan for this part.

Once the skin is crispy and golden-brown, flip the thighs over and let the other sides brown for about three minutes. Then, remove chicken from the pot, place into oven-safe baking dish and pop it into the oven, covered, for about 25 minutes.

Time to deglaze your pot with the sherry. Splash it in there and scrape all the bits of skin and glory from the bottom. Keep the exhaust fan on!

Now add your carrots, onions, celery and bay leaves, and let them cook for a few minutes in the bottom of the pot. Once they are tender, add the chicken stock and bring your soup to a boil.

When your chicken has cooked through, remove from the oven and remove from the baking dish onto a cutting board so that the chicken can cool down enough for you to touch it with your bare hands in a few minutes. I like to pour the drippings from the chicken dish right into the soup. Do as you like.

Time to make the meatballs. Combine the ground beef, grated cheese, egg, oregano, half the parsley, basil and bread crumbs with your hands in a bowl. Pinch off a small bit at a time and roll between your palms into meatballs the size of large marbles. It's painstaking work, rolling meatballs that are this tiny. Try to keep them as small as possible. When you are finished rolling, drop the raw meatballs into your soup pot, which should be boiling by now.

Using your hands, separate the meat from the bones of your chicken thighs. Or, if you are using boneless thighs, cut the meat into bit sized pieces. Cooking meat on the bone gives the meat more flavor, but it takes more time to separate the meat for this step (trade-offs).

Turn off the heat under your soup, and cut your escarole into two inch wide swaths. Drop the greens into your soup just before serving. Add the remaining half of the chopped parsley directly into soup, also after you have cut the heat.

Once your pasta water is boiling, add your acini de pepe. You could also use orzo, small shells, or any kind of other tiny pasta shape you like. Acini de pepe is traditional (or at least it's my Dad's favorite). Strain after a few minutes of cooking, and douse with olive oil so the pasta doesn't stick to itself. I like to keep the pasta in a separate container from the soup so that the pasta doesn't become bloated with soup, and so you aren't left without any broth to sip.
Nutrition: A well balanced meal in a bowl that will warm your heart and soul.