Gingerbread, King of Cakes
Equipment
bundt cake pan
electric mixer
---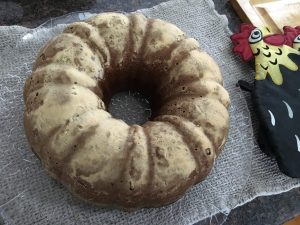 I just pulled this one out of the oven, and I'm soooo tempted to cut into it right now and gobble it down, piping hot, unfrosted and all.  That's how good it smells.  Instead, I'm going to write down this recipe while it cools, whip up some cinnamon frosting and savor it with my sweetheart in front of a crackling fire, after dinner.  If you're inside a snow globe (in New England) like I am today, there is still plenty of time to make your own King of Cakes before the swirling and blowing stops and the shoveling begins!  Enjoy, my friends, and be safe and warm and cozy today.
---
Ingredients
---
Instructions
Preheat oven to 350. Grease and lightly flour the inside of your baking pan. I like a bundt pan for this recipe, but you could use a 9x13 inch pan, 9x9, or even make cupcakes. Whatever your little heart desires. If you're using cupcake papers or a parchment lining in your pan or baking dish, no need to grease and flour the pan.

If possible, use room-temperature butter. If your room is very cold, or you forgot to leave a pound of butter on your countertop for baking, pop your butter into the microwave for 10 second intervals until it's mushy but not liquid. Cream butter and sugar together in the stand mixer with the paddle attachment, or with the handheld mixer.

Add egg and molasses and mix, scraping down the sides and bottom of the bowl as you go.

In a separate bowl, sift together the dry ingredients: flour, baking soda, cinnamon, ginger, cloves and salt. Add orange zest.

Add dry ingredients to the wet ingredients and mix until well blended.

Add the 1/2 cup hot water and the juice from your orange (should be about 1/2 cup, making the total amount of liquid added in this step equal to one cup).

Bake in preheated oven for one hour or until a toothpick in the center comes out clean and the cake springs back against your finger when you press into it.

Remove from pan and cool before frosting. Enjoy!
Nutrition: I don't know: how many calories are in magic?