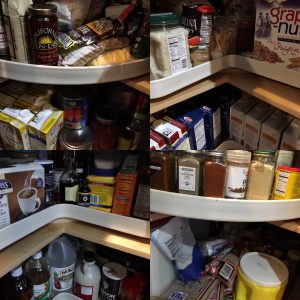 Keeping a well stocked pantry/fridge/freezer is an art, a talent, and a huge time and money saver: when your pantry is well stocked, you can make almost anything, almost any time, without dashing out to the grocery store (god forbid).  Is there any one out there who has so much time on their hands, that going grocery shopping is a welcome diversion any time of any day of the week?  I didn't think so.  Buy what you need ahead of time, keep your pantry, fridge and freezer stocked with essentials, and then even when you don't have a plan for dinner, and you don't have a minute to spare, you have no problem.
A well stocked pantry/freezer/fridge doesn't need to be pretty or spacious.  It just needs to work for you.  I went online to find some photos of well stocked pantries because I knew that my own pantry was no beauty, but they all looked phony and lame to me.  Little matching containers of spices and labeled canisters filled with flour and sugar are NOT welcome in my pantry.  My pantry may not be photo-ready, but it's ready to bang out a few dozen delicious meals without flinching.  My "pantry" is in at least three different spots in my house.  I have two double-layer turntables that are pictured above, plus a free-standing pantry that contains the big stuff: 10 pound bags of flour, sugar, gallons of olive oil, vinegar, and paper/foil/plastic goods.  And then there are the countertops and fruit bowls all over the kitchen.  This is what my kitchen looks like right now: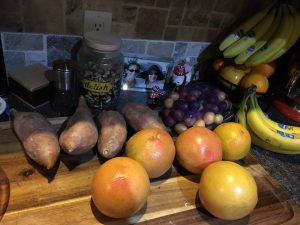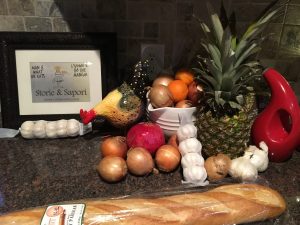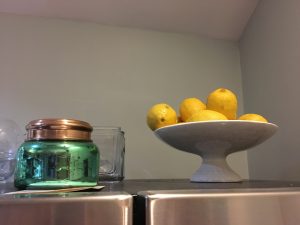 Don't get all tangled up in thinking that you score points for a pretty pantry, and that if you don't have chalkboard labels on your herbs, you must be doing it wrong. If you could feed a football team without going to the store tonight, I am confident that your pantry is in better shape than the prettiest picture on the internet.
A well-stocked pantry/fridge and freezer are always a work in progress.  Here's the trick: keep a running list, at all times, of things you are close to running out of, so that you can re-purchase before you run out.  Plan to shop once per week, at a time that is convenient for you (I like to go really early on Saturday morning or late on Monday night, to avoid the crowds and also to get the best and freshest produce).  This way, when you shop, you'll replenish your pantry and buy any fresh produce/meats/dairy/bread that you anticipate needing that week.  Add to your list all of the things that are in all of your favorite dishes, so that if the mood strikes and you must have that go-to flavor, you can whip it up without worrying about shopping for ingredients.
This means, if you like to cook the things that I like to cook, your "pantry" should contain at least (and not be limited to!) the following:
5 pounds all purpose flour, 5 pounds sugar (powdered, granulated and brown), salt (kosher and table), whole black peppercorns, corn starch, capers, chicken stock, beef stock, soy sauce, worcestershire, sriracha, baking powder, baking soda, vanilla, molasses (yes: if you love gingerbread like I love gingerbread, molasses is a staple), chocolate chips (are you telling me this is not a necessity? pshaw), light corn syrup, honey, maple syrup, rolled oats, seasoned bread crumbs, garlic powder, ground ginger, nutmeg, cloves, cinnamon, cardamom, oregano, basil, rosemary, sage, thyme, crushed red pepper flakes, olive oil, red wine vinegar, cider vinegar, dijon mustard, sundried tomatoes, dehydrated mushrooms, canned tomatoes (the more variety, the better), tomato paste, fresh onions, lemons, carrots, celery, parsley, garlic and ginger root, milk, heavy cream, butter (5 pounds), eggs, grated pecorino or parmesan, shredded mozzarella and cheddar (I keep huge bags in the freezer), sour cream, greek yogurt, cream cheese, dried pasta (long and short and tiny for soup), rice (brown and white) pearled barley, lentils, garbanzo beans, chopped walnuts, slivered almonds, polenta and yeast.
In the freezer, you'll want to keep your favorites: a few chicken cutlets/breasts/thighs, a couple of pork loin, maybe some steak tips, bacon, a couple of pounds of ground beef, coffee, vodka, a couple dozen ravioli and I like to have two or three loaves of crusty bread.  I'll keep adding to this post as I think of things I have left off this list.  But that will cover a lot of ground.  With these things, you are pretty much in business for any meal or recipe that exists, in my repertoire, anyway.  What you don't have can be substituted for or done without.  Now let's get cooking!