Gobbles (a nutty new take on anginetti)
Equipment
mixer
cookie sheets
parchment paper
---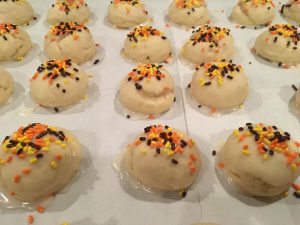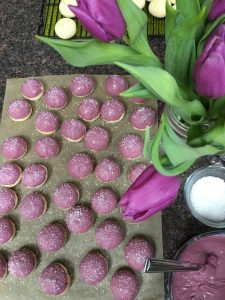 ---
Ingredients
---
Instructions
Beat eggs on high speed until light and foamy, about 5 minutes; set aside.

In a large bowl, combine the flour, confectioner's sugar and baking powder.

On low speed, gradually beat in shortening and extracts until mixture resembles fine crumbs.

Gradually add beaten eggs (dough will be stiff).

Roll dough into 1 inch balls (about the size of a golf ball) and place 2 inches apart on lined baking sheets.

Bake at 350° for 12-14 minutes (tops of the cookies will not change color, but bottoms should change color, ever-so-slightly).

Cool completely.

For glaze: combine about 1 cup confectioner's sugar, about 2 tablespoons of milk, and 1 teaspoon of vanilla or almond extract. Add food color gel if that's the look you're going for...Mix with a fork. Add confectioner's sugar/milk until the consistency is runny but not too thin. It should coat your fork but the excess should be able to drip off.

Dip cookies in glaze made of confectioners sugar, milk, and vanilla extract. Immediately top with sprinkles.

Let dry for 24 hours before storing in airtight containers.

Credit for this recipe goes to the lovely and indominitible Elizabeth, whom I love with all my heart.
Nutrition: you don't want to know