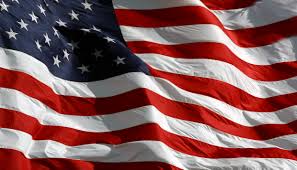 I have my parents to thank for instilling in me a deep respect for honoring and celebrating (all things, really, but especially) the Fourth of July.  As a child, the youngest of five, my parents took us to wonderful places to celebrate the Fourth, the sights and sounds, tastes and smells of which are indelibly etched into my heart.  As a young child, we often packed up and drove halfway across the country, to our old neighborhood in Chicago, to visit our Aunts, Uncles and cousins.  My cousins and I would get positively waterlogged in their above-ground pool and fill up on Italian sausages in soft, sun-warmed rolls, hot dogs covered in mustard and "piccalilli," and slurp down ribbon jello, watermelon and "pop." We tore up the streets on our Big Wheels with streamers flying out of the handle bars and would sit on the curb at sunset sucking on roasted sunflower seeds, watching the older kids light roman candles and firework-tanks in the street.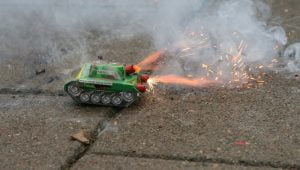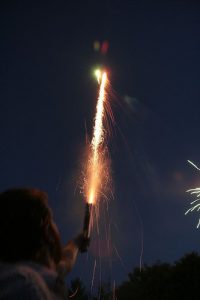 They would bring us to our Uncle ("Captain") John's house on Lake Michigan for floating in the sun, water skiing, cherry pit spitting, pontoon boat fishing and roasting catfish and Lake Perch over an open campfire.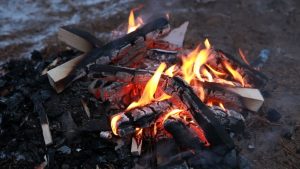 After corn on the cob, slathered in butter and salt, and homemade strawberry-rhubarb pie, we would lie on our full, warm bellies in pup tents on the lawn and "oooooh!!!!"  and "aaaaah!!!"  over the fireworks blasting over the lake.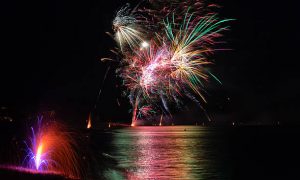 As an older child, they took us to see fireworks all over the country, including one memorable Fourth at Disney in Florida, and we have had plenty of long, sun-drenched, sandy, salty, perfect days and evenings picnicking on our beloved Rhode Island beaches.  My mother's famous submarine sandwiches (which began by slicing entire loaves of Italian bread down the sides, and contained pounds of deli meats, cheeses and garden-fresh veggies) would be sliced into two inch segments, wrapped in wax paper and packed in a cooler for lunch.  Del's lemonade was our drink of choice on the beach.  For dinner, we would either grill hamburgers right on the beach, or we would head to the picnic tables at Aunt Carrie's in Point Judith for fresh, hot fish, clam cakes and chowder.
Once I was old enough to work, the Fourth became both a holiday and an exciting work day… whether pulling in boats with flags flying at the Yacht Club or carrying endless trays of gin and tonics for the Country Club crowd, a working Fourth was always full of hustle and sweat and teamwork and fun.
And yet, the experience we had on the banks of the Charles River that one year in Boston (it must have been somewhere between 1989-1992) on the Fourth of July is unmatched…
Family beach days trained us well to arrive early and stake out our space with blankets and lawn chairs. We must have settled our territory in front of the Hatch Shell at 10:00 a.m. that day…  Then you relax.  Wait.  Try to cool off.  Eat from the cooler.  Take a walk on the River.  Complain that you're bored. Marvel at how quickly the lawn is filling up.  Be proud and happy that you got there so early.  Complain about having to get there so early. Split up into factions and take turns going to get Nino's Pizza on Charles Street.  Take a nap.  Read a book.  Eat again.  Nap again.
And then then, it's time: the merriment begins.  The opening acts perform, and the Boston Pops take the crowd through a sing-a-long of patriotic favorites, and you are now packed in, shoulder-to-shoulder on the lawn, and you're swaying, and you're singing your little heart out, "This Land is Your Land, This Land is My Land…." perched on top of your brother's shoulders so you can see the orchestra, and it's FUN and you feel connected to every person on that lawn and every person in this great land of ours…
And then it's dusk.  And a reverent calm sweeps over the crowd of thousands as the fog creeps in off the Charles and the tympany begin to ever-so-distantly thunder the signal of cannons, as Tchaikovsy's 1812 Overture takes you all the way back in time…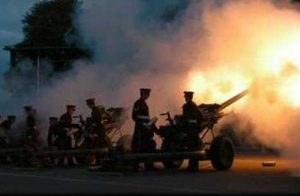 The piccolo and the snare drum lead us through the battle field, with all of its torture and tragedy and hope, its misery and its courage, its conviction, its elation and its triumph… you feel these things, and you feel the music piping through your veins…you smell the gunpowder, you tremble at the cannon blasts.  You startle and awe at the fireworks, and you remember, as if you had been there, what it means to be a part of this Great Experiment.  And THAT was what the Fourth of July was all about.
While I was in law school, I re-lived this 4th of July experience in Boston from the roof deck at Cheers, where I worked… the restaurant would empty, leaving half-eaten burgers, baked beans and Boston Cream pie on tables throughout the bar, as everyone poured onto the street to catch a glimpse of the fireworks and to be a part of that magical transformation on the banks of the Charles.  All of the servers, in our knee-high American flag socks and star-spangled headband antennae, would wipe our hands on our aprons and race upstairs to the roof to pause, watch and listen.
These days, I like to honor and celebrate America's birthday the best way I know how: by gathering family and friends for a good old fashioned backyard cookout with the summer foods that bring us each back to the celebrations of our childhoods.  This year, we are going to put a turkey and a brisket in the smoker and hot dogs, hamburgers, Italian sausage and marinated pork ribs on the grill.  I'll make a big pot of clam chowder, corn salad, sweet potato fries, ribbon jello, cheesy jalapeno cornbread, baked beans, watermelon, and of course, a couple of blueberry and strawberry-basil pies.  Those who are in town and can make it will swing by for lunch or dinner or both.  We'll miss all who can't.  At sundown, we'll have smore's on the fire and cast our eyes towards the sky. With hands on hearts, we will listen to the 1812 Overture, and with all of the joyful reverence we can muster, we will ask God to Bless America on her birthday.
Have a delicious and magical Fourth, my friends!
---