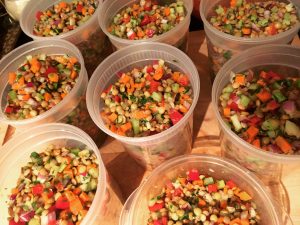 I like to make as much of this salad as I can at one time (this recipe fills my biggest mixing bowl and is just about all the chopping/dicing I can handle in one day) and store it in quart sized containers in my second fridge… then I bring up one quart at a time, and we eat it every day… for lunch, under grilled chicken or steak for dinner, or as a side dish when you are tired of leafy greens. Of course, volume is always up to you. You could do one pound of lentils and scale down the veggies to taste. I've found that if I'm going to do all that chopping, I might as well scale up and be stocked up for a long time— this salad will keep for weeks in the fridge! And if you have a household or two to feed, you can't beat this dish for a fast, nutrient-rich, guilt free go-to snack or meal. It is so fresh tasting and crunchy with all of the raw veggies, the parsley and the lemon juice, and is densely packed with protein and vitamins, fiber and all things good. The crumbled goat cheese should not be overlooked. Its tang and creaminess adds the magic to this salad. Once you top with goat cheese, you can't go without.
---
Ingredients
---
Instructions
First pour lentils out of their bag(s) onto a sheet pan and make sure that there are no imposters among your lentils. There will sometimes be a little lentil-shaped rock mixed in with them! They even warn you about this on the bag. I ignored this warning until I chomped down on a rock. Now I do the quality check, even though it's annoying.

Put your lentils (I use two pounds for this recipe) into a pot, covered in about one inch of water, and set on the stovetop to boil. As the lentils cook, you can add water to the pot if needed… and start chopping!

Dice up about 4 cups of everything you see here: carrots, celery, red bell peppers, red onion, and two big bunches of parsley (after, of course, you have thoroughly washed and let it air dry).

When the lentils are al dente (cooked but still have texture— not too mushy!), strain them or just take them off the heat if all of the water has been absorbed/cooked away. You may want to shock them with cold water if they are perfectly cooked and you don't want them to get any mushier. Shocking them will also speed their cooling time.

Let lentils cool, then stir together with your veggies.

Squeeze a few lemons (I like it LEMONY) and whisk together with olive oil (most people like a 1:2 ratio… I like a 1:1 ratio), salt and pepper. If you are using two pounds of lentils, you will probably need about a two cups of dressing. Toss lentils and veggies in the dressing, and serve with crumbled goat cheese on top
Nutrition: Get your legumes, vitamins and minerals here!