Almond Cake with Lavender Icing
Equipment
cake pan - bundt or spring form are fun
---
I didn't invent this recipe, but I've been using it for years and can't remember where it came from.  Let me tell you, this cake is gorgeous.
It's fragrant and heavy like a poundcake, but light enough that I can eat a whole piece,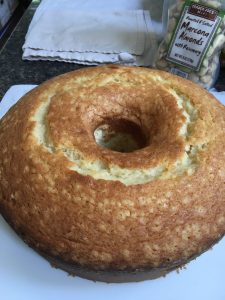 frosted, without recoiling at the sugar overload.  This cake can easily stand alone without frosting, so it's the perfect cake for any kind of pan that makes cute little molded cakes with details that you don't want to frost over.  I've make this in a pan that makes little Easter egg shapes, and I have one of those pans that will make little pumpkin-shaped cakes.  You know what I mean.
This year, for Mother's Day, I made this cake for my mom in a traditional tube pan (just like a bundt pan but the bottom comes apart from the sides) and dressed it up with lavender icing, a little dried lavender and Marcona almonds (roasted with rosemary) from Trader Joe's sprinkled on top.  It was a HUGE hit.  So, I figured I would codify this recipe here, in case I can never find the original source again!  Enjoy!
---
Ingredients
---
Instructions
Preheat oven to 350 degrees. Grease cake pan (I use non-stick cooking oil spray) and dust with flour.

Combine flour and baking powder and set aside.

In a separate bowl, beat sugar and egg together with almond extract.

Add milk and dry mixture, a third of each at a time, until they are all blended together. Batter will be aromatic and silky.

Pour into greased and floured cake pan and bake for about 45 minutes, or until cake is dry on top and springs back when touched. Edges should be golden brown.

For Icing: Stir together (I use a fork) powdered sugar and lavender extract, adding milk one tablespoon at a time until the desired consistency is reached. You want it to be thick enough to stay on the cake, but runny enough to drip down the sides.
Nutrition: Don't worry about it.