Serves
16 slices 2 loaves
---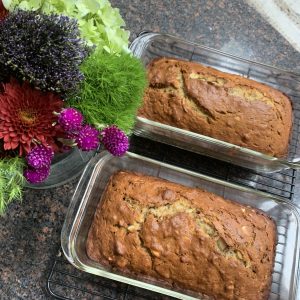 This is as simple and delicious a banana bread as it gets (eight ingredients if you choose not to add extras).  I always add nuts if I have them.  You can also add dried cranberries or sprinkle chocolate chips into this batter for a sweet treat.  This is a no-fail recipe and a perfect way to use those blackening bananas!  Pro tip: peel your very ripe bananas and pop them into the freezer- they will be there when you're ready to bake!
---
Ingredients
---
Instructions
Preheat oven to 350 and grease pans (I use non-stick cooking spray).

Mash bananas with a fork or a potato masher in a bowl. Add melted butter, eggs, sugar and vanilla, and stir.

In a separate bowl, combine flour, baking soda and salt.

Combine wet and dry ingredients and stir.

I like to throw in a bag of walnuts or slivered almonds at this point. Stir, and divide evenly into the two baking dishes.

Bake for about 50 minutes. The tops and sides are going to brown up, and that's good... they are done when the bread springs back against your finger and/or when a toothpick inserted in the center comes out clean.