Equipment
immersion blender
baking sheets
vegetable peeler
large soup pot or dutch oven
---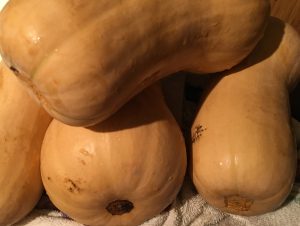 Ain't nothing more satisfying or delicious on a chilly Fall evening than a big crock of roasted butternut squash soup with bacon crumbles and a big fistful of warm, crusty bread.  This is a fact.  This soup (with bacon and bread) eats like a meal and will warm your belly and keep the rest of your bread in your wallet… have you noticed how super-cheap butternut squash is!?  They are practically giving it away.  This soup freezes and reheats well and is a treat for lunch, too!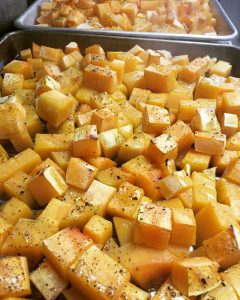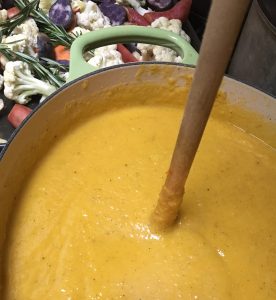 ---
Ingredients
---
Instructions
Set your oven to 375 degrees and roast your butternut squash. You can do this simply by (Option One:) cutting long-ways, scooping out the insides, drizzle with olive oil, sprinkle with salt and pepper and place it cut-side down on a baking sheet... OR (Option Two:) you can do it the way shown above-- halve your squash, scoop out the insides, peel and cube it, spread into a pan and drizzle with oil, sprinkle with salt and pepper.

Once the squash is tender (if you can easily stick a fork into it, it's done), you either have to scoop out the roasted squash from the outer shell, or you have to put the work in up front and peel ahead of time. Your choice! Option one is much quicker... if you can afford to wait for the squash to cool before you scoop it. Option two is quicker if you have lovely teenage nieces who don't mind peeling for you!!

Dice your onions, peel and dice your apples. Melt diced apples and onions together with a drizzle of olive oil in the bottom of your soup pot, over medium heat, until wilted and aromatic. Add sage, butternut squash, and nutmeg, and stir.

Cover mixture with stock, and bring to a boil. Then, reduce heat. Blend with immersion blender. Season with salt and pepper to taste.

Don't forget the bacon! I like to lay bacon out flat on a baking sheet and stick it into the oven while the squash is roasting. I let it crisp up, then drain off the excess fat and spread on paper towel. Chop it up when it's cool and set on the side, to be served atop your soup!

For an extra decadent treat, add a dollop of sour cream, creme fraiche, or heavy cream right into your soup bowl and then sprinkle on your bacon. Yuuuuummm. Serve with warm, crusty bread and enjoy!!
Nutrition: If you want to deprive yourself of the bacon, this soup is a nutritional home run. Personally, I'm perfectly happy at second base.