Cranberry-Pignoli Oatmeal Muffins
These are going to make your morning merry.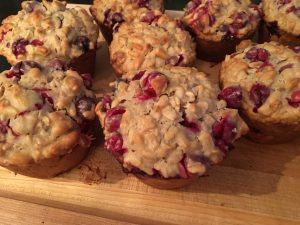 ---
Ingredients
---
Instructions
Rinse your cranberries and sort out the duds. You can use dried cranberries, too, AKA "craisins." Or raisins. Or blueberries. Or dried blueberries. But I digress.

Toast your pine nuts. Just pour them into a sautee pan on medium heat on your stovetop and stir/shake them around until the oils are released by the heat and they turn a nice golden color.

Preheat oven to 350 degrees.

Mix dry ingredients (flour, oatmeal, baking powder, salt, granulated sugar) together in a large bowl.

Whisk eggs, yogurt, cranberry juice and olive oil together in a separate bowl.

Mix the wet into the dry ingredients and stir in cranberries and toasted pignoli. If your batter is too dry, add another splash of olive oil or cranberry juice.
Nutrition: Pretty gosh darn nutritious and delicious!