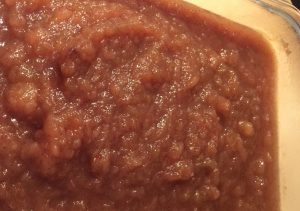 Fresh, wholesome homemade applesauce is excellent as a snack in school (or work!) lunch, on top of pumpkin bread, cake, pancakes, waffles, or mixed into yogurt.  We eat it as dessert and as breakfast, warm, cold, or piping hot!
---
Ingredients
---
Instructions
So, the peeling and slicing takes time. Find an afternoon or an early morning when you have an hour to yourself and can bust through this. Fill your crock pot with sliced, peeled apples.

I always try to mix two or three varieties: Macouns and McIntosh are good, solid flavors and inexpensive apples. I like to add a few Granny Smith for tartness, but I'll just use whatever is on sale.

Sprinkle cinnamon on top to your heart's desire. I also add lemon juice (freshly squeezed) to my apples as I'm slicing them, to preserve their color, and also for some added tartness to balance the SWEET of the apples. Toss to coat the apples.

Cover the crock pot, put it on low and let it simmer until your house smells like the inside of an apple pie (about four hours). Apples will be completely broken down, and you will have perfectly chunky, perfectly delicious applesauce.

Let cool completely, and refrigerate in an airtight container. Will keep for a few weeks in the fridge, but I wouldn't know, because it always disappears after about a week in my house!
Nutrition: All natural, no-sugar-added, apple-y goodness!