Serves
20 15 - 20 people
Equipment
mandolin or food processor
---
This amazingly tasty raw-vegetable salad was inspired by dear friend, Emily, who has inspired me in so many other ways, I thought it was time for a salad to be named after her…  Emily introduced me to the idea of using RAW broccoli and cabbage in a quinoa salad (something I would not have been brave enough to do before), and using an Asian flavor profile to liven up the sometimes musty taste of quinoa.  I made some changes and made this one my own, but this one's going out to you, Em!  Notes: you can use any type of grain, and certainly any variety of quinoa… I like to cook an entire package/box at once and then have salad for my family of six all week long.  Or, if you're hosting a party, these proportions would work for you.  If you're cooking for less than 6 on a daily basis, cut this recipe in half.
About the grain… it usually comes in two cup packages.  Quinoa takes two cups water for each cup uncooked grain, but I'm leaving you to the directions on the package for whatever type you're using.  I love to use farro, cous cous, wheat berries, quinoa and/or lentils interchangeably in these grain-based salads.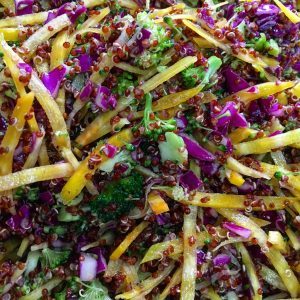 ---
Ingredients
---
Instructions
Cook your grain, following the directions on the package. Drain if called for, and allow to cool.

Wash and drip dry your broccoli and cabbage. Peel beets with a potato peeler. Cut all of the broccoli florets off the stems and mince finely. Shred cabbage and mince. Shred golden beets on the mandolin or in the food processor on "grate" setting. Squeeze your lemons. Today, I used four very small lemons. 1/2 cup is usually the juice of two large lemons. Stir your chopped veggies into the cooked quinoa.

Combine sesame oil, rice vinegar, soy and lemon juice. Whisk briskly and pour over chopped veggies and grain. Enjoy!!
Nutrition: This thing is so FULL of HEALTH and goodness (just like my friend, Emily) you'd better put a lid on it and get it into your refrigerator before it gets up, runs out the door and beats you at your next race!