Serves
12 people, with plenty left over
Equipment
large, heavy-bottomed pot
---
This one is probably the easiest-to-execute soup on this site, and yet, it will knock their (wool) socks off, every time!  This recipe is not a purist version… it is going to look and feel a lot like minestrone (with a tomato-y base).  Apart from the tomatoes, I'm leaving out the bells and whistles so that you can add your own fun, as you like it. This recipe can be "souped up" with any type of protein, pasta or grain.  My mom skips the tomato but adds pearled barley (cooked in a separate pot, of course), and I can imagine little baby pasta shells feeling right at home in this soup… please feel free to add chunks of ham or bacon (which you would sizzle up before adding your mirepoix) or even baby meatballs, al-la Italian Wedding Soup… and by all means, a pecorino rind or two during the simmering stage wouldn't hurt.
I'll give you the beans; you add the bling.   It's even better the next day, and it will last forever in your freezer, if it makes it there in the first place.  As my stepson says, "things tend to disappear around here." This soup is guaranteed to satisfy the hungry masses and brighten up your darkest, coldest winter day.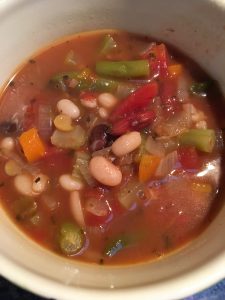 ---
Ingredients
---
Instructions
Soak your beans in water overnight, or for at least three hours before you add them to your soup. This part is a pain, but the only way to make sure your beans will be nice and tender. Rinse after soaking and do your quality check to make sure there are no tiny stones masquerading as beans.

Heat your olive oil in the bottom of your soup pot over medium heat. Add mirepoix (chopped onions, celery and carrots) and toss to coat, cooking until the carrots are tender and the onions and celery become translucent.

Add tomatoes, chicken stock and boullion, stir and bring to a boil.

Simmer until all beans are tender and season with salt and pepper to taste. Enjoy!