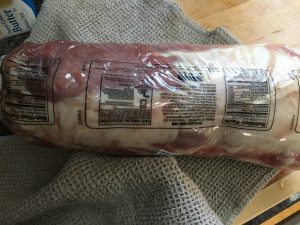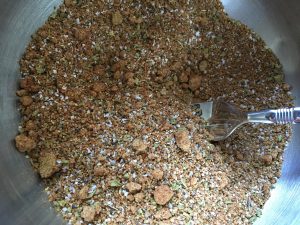 So you have a five pound pork loin (or butt or shoulder) in your fridge and you're feeling less than inspired?  Open up that well-stocked pantry of yours and pull together a spice rub, line your slow cooker with onions and garlic, splash on a little chicken stock, and in six or seven hours– maybe when you get home from work, maybe when you get home from skiing– you will be glad you did.
---
Ingredients
---
Instructions
Slice your onions and the garlic heads in half, peel away the outer layers and line the bottom of your slow cooker with them, cut sides down for onions, cut sides up for garlic.

Splash the chicken stock over the onions and garlic. They should be pretty much submerged, depending on how large the onions and garlic are. Use as much chicken stock as you need to pretty much submerge the onions and garlic. You're going to set your pork loin on top, and it should be about an inch deep in stock.

Mix all spices and dry ingredients together with a fork in a small bowl: brown sugar, cumin, chile powder, cayenne, oregano, garlic powder, cinnamon, salt, pepper.

Pat your pork dry with a paper towel, place it on top of the onions and garlic, and coat with the dry spice rub you just made. Just pat it down with delicious, fragrant spices like the prized pork that it is. The leftover spice rub goes right into the pot with the onions and garlic heads.

That's it! Place the cover on your crock, turn the heat up high, and go about your business for the next 6 - 7 hours. If you're around about mid-way through the cooking time, turn your pork over in the pot. If not, forget about it. When you return, your kitchen will smell divine, and you will be a hero.
Nutrition: Pretty gosh darn healthy, as far as shredded pork goes. The leaner the cut of meat you use, the leaner your meal will be. Using this recipe is much better for you (and MUCH more flavorful) than using a can of root beer and a bottle of store bought, processed barbecue sauce (which is mostly sugar and preservatives), as in some recipes I've seen. So, way to go, you! Have another helping.