Soft Molasses Ginger Cookies
Equipment
sanding sugar ("turbinado")
---
Credit for this recipe goes to The Providence Journal… and to my mom, for cutting it out and sending it to me.  And to cardamom, which is truly the secret ingredient here.  All I have is this screen shot, so I can't actually reference date or issue, but you should know that I didn't create this one, nor would I change it, even one bit.  But I will retype it for you, so you know where to find it for, happily ever after.  You're going to need it for those long, cold winter months ahead.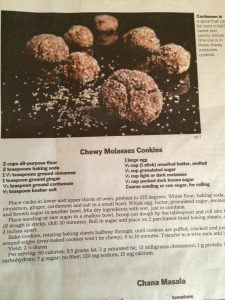 ---
Ingredients
---
Instructions
Preheat oven to 375 degrees.

Whisk dry ingredients (flour, baking soda, cinnamon, ginger, cardamom, and salt) together in a small bowl.

Cream butter and sugars together. Mix in egg and molasses.

Combine dry ingredients with wet.

Place sanding sugar in small, shallow bowl. Roll dough into walnut sized balls, then roll in sanding sugar until coated. If dough is sticky, chill for 15 minutes.
Nutrition: The recipe says 85 calories per cookie. I say, you know what, they're cookies. Don't look for nutritional info on cookies. What you you don't know won't hurt you.