Equipment
two baking sheets (half sheet pans)
---
My family has been making spinach pies and calzones forever.  My mom's recipe yields a flatter , half moon, "hand pie," with a flaky, buttery pastry crust that is beyond delicious.  This one is for cheaters – or should I say multi-taskers – it uses store-bought pizza dough for the crust and can be thrown together with almost no preparation.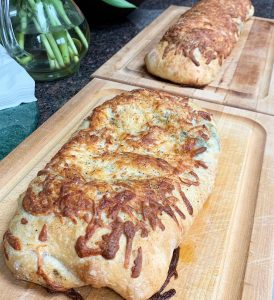 I think of these as calzones, rather than "pies" because the crust is doughy and because they can feed a lot of people.  My sister's recipe includes pepperoni and black olives – feel free to add as you like!
Here's a visual of the tricky part: the wrap!
First pull the end up and over…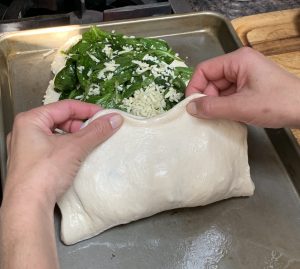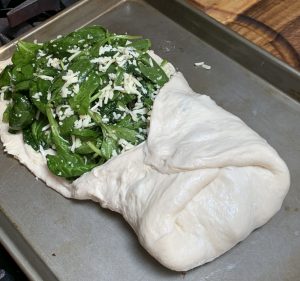 Then close the sides around the end…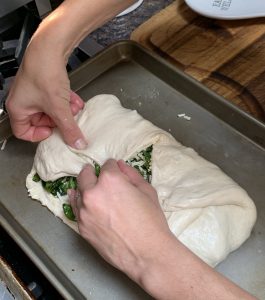 Repeat on the other end…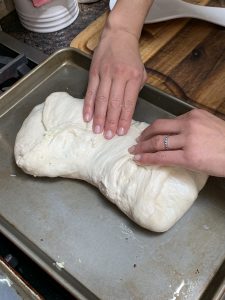 Seal up the edges, down the middle,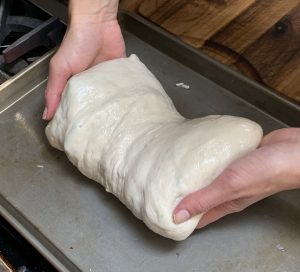 And flip it over!
---
Ingredients
---
Instructions
Preheat oven to 350. Stretch your dough out onto greased half-sheet pans (I use non-stick cooking spray).

Empty your fresh (washed and dried) spinach into a large mixing bowl. Add minced garlic and almost all of the mozzarella - you want to reserve about one cup to sprinkle on top of the pies. Drizzle olive oil and add salt and pepper - big pinch of salt and several grinds of your pepper grinder - and toss until coated in oil and all ingredients are uniformly mixed.

Place handfuls of filling onto the dough, spreading and stretching the dough underneath to accommodate the filling, and piling and pushing the filling onto your dough platform. This takes a little practice and patience. Don't worry if your calzone baby is looking awkward. It's going to be delicious and will make you proud when it comes out of the oven, no matter its shape. You just need to make sure that you are able to pinch or wrap the dough together so that the filling stays inside. My technique is to pull the end over the filling and then wrap the sides up and together, like a burrito. I flip them onto their seams once they are wrapped.

Sprinkle remaining mozzarella cheese over the tops of your pies. Sprinkle a little more salt, pepper and garlic powder, and drizzle with olive oil.

Bake until the crust is golden brown and cooked through. Enjoy!