This is Tuesday night comfort food.  Put on the Skynrd, loosen up your stirring elbow and pour yourself a nice deep glass of whatever white wine you're using… we like to raise a glass to "Tuesday's Gone" before we dig into this brightly flavored, creamy, tangy, heartfelt dish.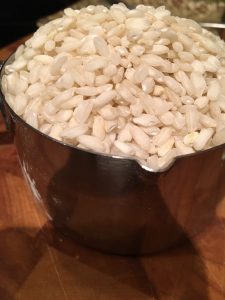 ---
Ingredients
---
Instructions
Wash, clean and roughly chop your fennel and leek into thin slices. Prep your frozen peas by putting them into a colander and running some warm water over them in the sink. Leave them there to drain and warm up while you start the rice.

Heat oil in the bottom of a medium sized pot or pan, and add fennel and leek slices. Stir over medium heat until veggies are soft. It's okay if they stick a little... you're going to deglaze the pan in a minute.

Add the white wine and keep stirring, allowing the alcohol to cook off, about two minutes. The wine will unstick all of the bits and pieces of fennel and leek that may be on the bottom of your pan.

Add the rice, and keep stirring. You want the rice kernels to get a little toasted before you start adding your chicken stock, which is next...

Once you have added the rice, begin adding your room temperature chicken stock, about one half cup at a time. You are pretty much stuck stirring now, for the duration. Each time the liquid is absorbed, stir in another half cup, and keep stirring. Repeat this until all four cups have been stirred into the rice.

Add the juice of your one lemon. I like to zest it and add the zest, too.

Reduce your heat to low, and add your parmesan cheese. If you happen to have a tub of marscapone in your fridge, here's a trick: whisk the lemon juice into the marscapone (about 1/2 to 1 cup, whatever you have), and then add the marscapone-lemon juice combo. Then add the parmesan. Pure YUM.

Enjoy! You did it, and Tuesday's gone. And now you have creamy risotto for lunch on Wednesday. We paired this risotto tonight with fresh spinach salad and grilled pork chops that had been generously blessed by Axel's Herbs de Provence Spice Rub (delish). But that is a recipe that will keep for another day.
Nutrition: I daresay: gluten free. Which is funny if you know me, because I kind of prefer an all-gluten diet (PASTA), but it's true. Arborio rice has a ton of rice-gluten, which is what makes it so creamy and special (!) but this is not the kind of gluten that bothers people. So eat up, my gluten abhorring friends!