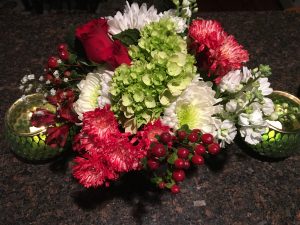 Well, we did it.  Another Christmas in the books.  And now it's time to put it on the blog.  We'll talk about the fishes of Christmas Eve in another post.  Today, we're going to talk about one of my favorite menus of the year: my traditional Christmas Day Menu.  I think the thing I enjoy the most about this menu is that it can be prepared entirely in advance, up to a week ahead of time, except for the roast, which takes almost no preparation at all.  And, as is the case on any occasion on which you are making a roast, you get to enjoy that heavenly aroma as it fills your home and entices your appetite all day long, and then take in the credit as though you had anything to do with the magic that happened in the oven while you were relaxing, visiting with family and friends, chatting and lounging.  This menu is hearty and vibrant, fresh and filled with happy colors and textures, satisfying, simple and easy, yet has enough special touches to be worthy of a holiday like Christmas.
Credit for this menu goes to two people: Bobby Flay, whom I assume you all know, and Eric Hammond, a great friend and terrific amateur chef with whom I've been honored to swap tricks over the years.  You haven't lived until you've had his Caesar salad.
CHRISTMAS DAY MENU:
(Click on the blue words to link to recipes!)
Vidalia Onion Soup with Blistered Cheddar Cheese and Fresh Parsley Pesto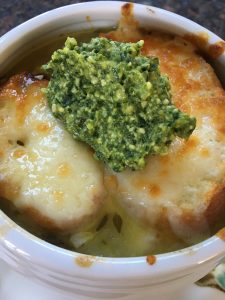 Herb Crusted Standing Rib Roast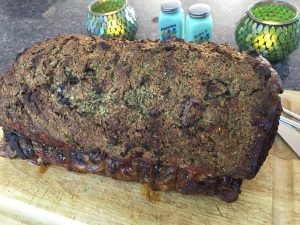 Mashed Potatoes (I forgot to take a picture of them, but they were fantastic!  All credit goes to my amazing sister, Maria, who makes the best mashed potatoes EVER.  And maybe she will share her secrets here one day soon!)
Christmas Salad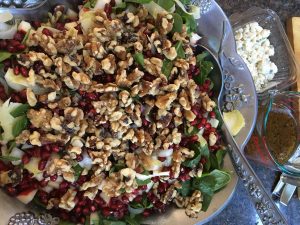 Warm Gingerbread Cake with Cinnamon Frosting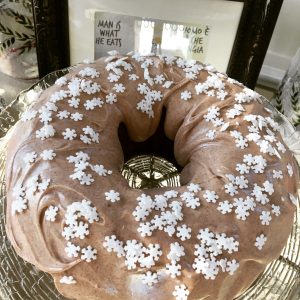 From our kitchen to yours: Mangia! Have a happy and healthy holiday season and a delicious new year!